Robot Cache's unique revenue share model allows content creators to earn a higher than industry average revenue share as we only take 5% of every sale.
As our current business model alternates between the sale of a first time downloaded copy of a game (for which the royalty rate is 95% to the publishers) and the sale of a previously owned copy of the game by a gamer (for which the royalty rate is 70% to the publisher as 25% is given to the RC user selling the previously owned copy) the average royalty rate would normally be 82.5% ((95%+70%)/2=82.5%).
Robot Cache as always received 5%.
In reality, however, not every RC user who purchases a game wants to sell it and have it removed from their game library, so in most instances the average rate will be even higher since there will be more first-time downloadable copies sold at a 95% royalty rate than previously owned copies sold at a 70% royalty rate. As such, sales performance and royalties will vary by game.
In addition, if a game is released on the RC store on the same day that it is released on other online stores, publishers are granted an exclusive 90 day window during which RC users are not allowed to sell their game. As a result, all games sold during this period will be first time downloadable copies subject to the 95% royalty rate only.
In general, most premium games will generate close to 50% of their lifetime revenue in the first 90-120 days of their initial release as the price is not (usually) discounted during that time, resulting in a higher royalty rate to publishers.
As an example, if a game sells a total of 1M units on the RC store, with 500k units sold during the exclusive 90-day window at the 95% royalty rate and the remaining 500k units sold afterwards during the alternating period at the 82.5% average royalty rate, the actual minimum overall average royalty rate would be 91.88% before any processing fees (if applicable).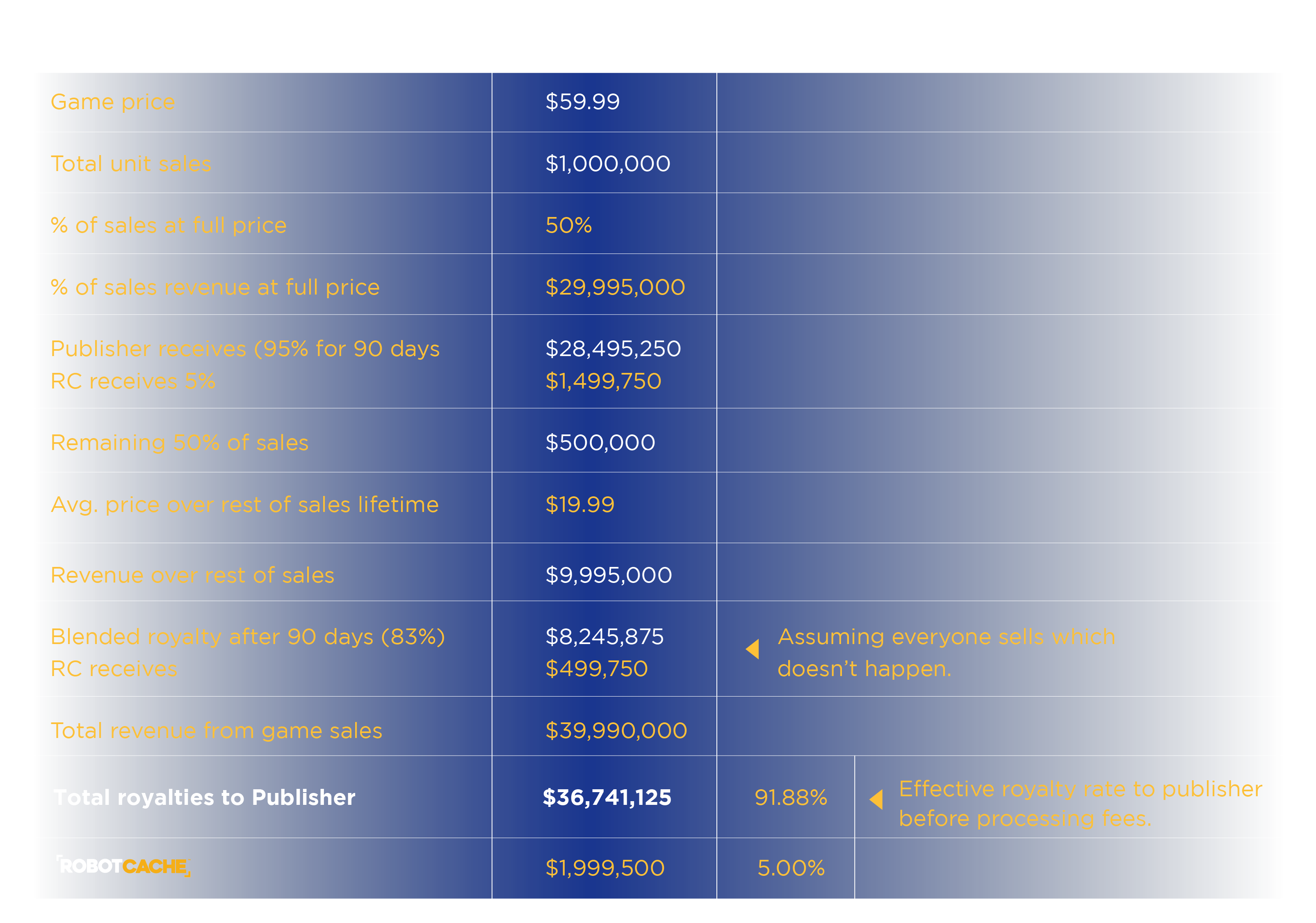 Since Robot Cache only gets 5% of any sale (whether from a first-time downloadable copy or a previously owned copy), we pass on the actual payment processing and exchange rate fees to publisher, which vary depending on the payment method used.
For more details and information please contact support@robotcache.com.