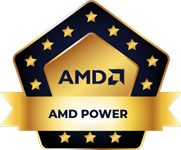 Robot Cache's programmers have built code to direct your computer to earn the most profitable coins for its specs (and we'll be adding more all the time as the landscape evolves). From there, Robot Cache converts the cryptocurrency into IRON, giving 85% of it to the earner (you) and keeping 15% of it to administer the RC earning pool and operate our business, but most Cachers will earn more through boosts. Earning Boosts amplify your earnings by adding to your percentage take of the earning pool. They come in 3 flavors (all in 6, 12 and 24-hour increments):
Power (2.5%) = 87.5%
Turbo (5%) = 90%
Nitro (7.5%) = 92.5%
They cannot be stacked, so activate just one at a time. Founders also have a Perma Boost that does stack through 6.30.20 adding an additional 2.5% meaning if you have a Nitro enabled your total take would be 95% for the duration of the Nitro boost. Note: they expire after 30 days so use them while they're hot!
AMD Radeon™ graphics cards and Ryzen™ processors users will be able to get free games fast with a special advantage: a 5% perma boost until 12/31/2020.